Attorney Dan Newlin Gets Family of Brain Injured Teen $100 Million Dollar Jury Verdict!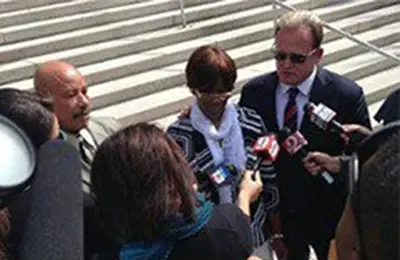 Attorney Dan Newlin obtained a record-setting $100 million verdict on behalf of a teen who suffered severe brain damage and has remained in a coma since 2012. The case was tried last week in the Orange County Court before the Honorable Judge Donald Myers, Jr. The damages award includes payments for past and future medical care, punitive damages, pain, and suffering for the teen, as well as emotional distress and loss of companionship for her mother, Alma Fletcher.
Danielle Sampson, then 15 years old, was riding along in the back of the family's mini-van in July 2012, when she was struck in the head by a stray bullet fired by Tyrone Mosby, 22. Mosby, a reputed gang member and a group of other men were fleeing the scene of a home invasion and he was shooting at the homeowner. Since the shooting and after spending several weeks in hospital and at a rehabilitation facility, the teen remains paralyzed and unable to communicate beyond blinking her eyes. The bullet still remains lodged in her skull, along with fragments in her brain.
"We hope this verdict sends a powerful message to criminals and gang members, that they will be held responsible – not only criminally, but civilly – for their actions," said Newlin, following the stunning verdict and one of the largest in Orange County.
Added Newlin: "This case isn't about whether Danielle and her family will actually see the money from Mr. Mosby. But when he gets out of jail, whether Mr. Mosby is working at Subway or Sears, where ever he may be working, a portion of his income will, with this judgment, be deducted and given back to this family."
The lawsuit was filed in July 2013 and named Mosby as the defendant. The lawsuit alleged that Mosby was responsible for the "damages and injuries caused by Danielle's wrongful shooting" which occurred on July 29, 2012. Earlier this year, another jury found Mosby guilty on seven counts, including attempted first-degree murder and aggravated battery causing great bodily harm, sentencing him to 30 years in jail.
"We are very pleased that the jury fully understood the devastating effects of Mosby's reckless actions," said Alma Fletcher through tears. "However, I still am not a winner. My daughter is not able to talk to me. This is about justice for Danielle."
"No monetary award can make Danielle whole again," said Justin Fletcher, Danielle's stepfather. "But today's verdict brings some measure of closure to this chapter in our lives."
Newlin, with offices in Orlando, said, he was pleased to have obtained the best possible result for the Fletcher family.
"No parent or child should have to endure this ordeal," he said.
Judgement entered. Pending collection.