Attorney Dan Newlin's Humanitarian Trip to Puerto Rico. Hurricane Maria 2017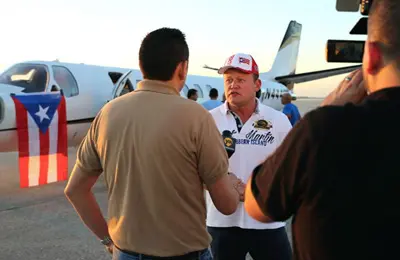 As the sun came up over Orlando International Airport Thursday, September 28th, Dan Newlin and several team members were in action loading the law firm's corporate jet with much-needed supplies for the people of Puerto Rico.  After hearing about the devastation and extreme conditions that the people of Puerto Rico were facing, Dan stepped up and offered his assistance in any way he could. Before taking off, Dan spoke with Noticias Univision Florida Central, explaining his drive and motivation for wanting to help.
Dan learned of a family that was in desperate need of help from contacts at Homeland Security.   A woman who was in need of immediate medical attention wasn't going to make it much longer in the current conditions.  This was not news to take lightly, and Dan was honored to help.
During the interview with Noticias Univision Florida Central, the reporter asked Dan, "Why spend money to do this?" as he pointed to Dan's corporate jet getting ready to depart to Puerto Rico. Dan replied that for the last 17 years the Puerto Rican and Latino community has treated him, his family, and his business very well. Of course, he wanted to help in any way he could.  He said, "We didn't even blink; we said how many trips do you need?"
Homeland security specifically asked for diapers and baby food, and that's exactly what Dan and our team filled the plane with.  Knowing the people of Puerto Rico are waiting for relief of any kind gave the mission a sense of real urgency.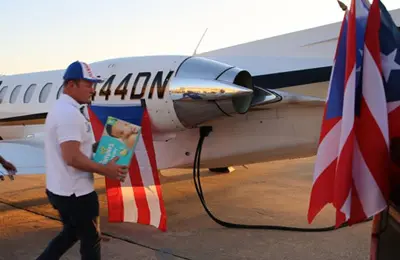 With genuine words of heartfelt compassion, Dan stated, "I'm really sorry that your families and friends are going through this very difficult time. I hope that the American government steps up and helps in a bigger way. We all come together and that's how we make things happen."
With those words, Dan and team finished loading up the jet with supplies and took off for Puerto Rico.