Dan Newlin Miracle Project
My name is Michelle Haugh. Before I begin, I would like to thank you for hearing my story. My story is not much different than so many others out there but through the blessings of many wonderful and caring friends, I have been given the opportunity to tell my story to others.  My hope is that it will make a difference somehow.
Approximately 3 weeks ago, on November 21st, 2010, my husband & I received the devastating news that he has Stage 4 Terminal Brain Cancer. However, unknowingly, our journey began long before that.
After over 25 years of continual work in the construction field, the effect of the economy hit us and Ron was laid off in October 2008. Along with his job, we lost our health insurance, our life insurance and our 401K. Ron began searching immediately and did get another job right away, only to be laid off again due to the economy three months later. After many job interviews, resumes and even a job partnership class nothing happened. In March of 2010, Ron took a seasonal part-time job at Sea World just to bring in some money and get back out there. Unfortunately, this did not come with medical benefits.
Approximately one year ago, I began to see some personality changes in Ron but I figured that it was depression caused by his job loss and an inability to find work. With one child in college and one in high school, the financial stress was doing a number on our 18 year marriage. Ron & I began to seek counseling but his "depression" only seemed to get deeper. Physical changes began to show and Ron lost 58 lbs in nine months. He began to seem "numb" to the world, choosing to sleep the days away.
On the Sunday before Thanksgiving, the 21st of November, Ron called me from his part-time job at Sea World. He had had two episodes while at work. The last one scared his co-workers so much that they called the EMTs/First Aid.
Within 30 minutes of arriving at Orlando Regional Medical Center we had met with Dr. Rowland and Dr. Safder and they ordered a CAT Scan for Ron. Shortly after we learned the horrible news, Ron had brain cancer. Dr. Medary was called in to talk to us about brain surgery, Oncology was called to talk to us about treatment and the ball started rolling. Our minds began to spin! Dr. Medary, and Orlando Regional Medical Center could have released Ron and told him to follow up with his primary doctor in the morning, but a decision was made by Doctor Medary and Orlando Regional Medical Staff, that they would keep Ron as a patient and treat him by performing emergency brain surgery. Doctor Medary knew that Ron had no health insurance or money to cover this life saving procedure and put Ron's life and our family over the ability to be paid.
Dr. Medary took the time to answer our son's questions before the surgery. He was straight-forward and honest but comforting and caring at the same time. He treated us like humans and put our minds to ease. His manner made me confident in our decision for surgery. After the surgery, Dr. Medary and the amazing Nurses at Orlando Regional Medical Center made sure that all my attention was spent helping my husband's recovery and not concerned about the mounting bills. NO ONE spoke a word to me about the cost of this care and when I brought it up, everyone assured me that there would be time for that later, to not worry and concentrate on my husband's recovery instead.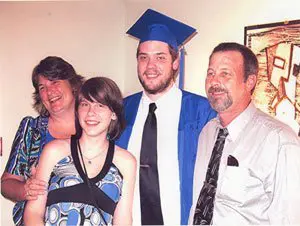 Unfortunately, Ron's brain cancer is Stage 4 Terminal. Doctor Medary has told Ron and our family that he has between 6-12 months to live, if he receives proper oncology treatment. Doctor Medary has opened the door to an oncology specialist, and we are liquidating all of our savings, including college money for the kids, to try and prolong Ron's time here on earth. Any assistance in helping Ron receive the proper life saving medical care would be appreciated. A trust being administered by the law firm of Mateer and Harbert has been established to administer all donations. Donations will go to medical providers only.
Most of all, Ron and I would appreciate your prayers and any supportive emails that you might send. We believe in God and we believe in miracles.
God Bless You and Thank You,
The Haugh Family